Why are we different
Sustainability
Doing the right thing for the right reasons ...
Our Environmental and Sustainability Objectives are very important to us and we work with other like minded organisations to achieve real results. Our aim is to make a genuine difference and ensure a sustainable future for our company, clients and employees.
Ensure all products used by us are purchased from Sustainable & Ethical sources.
Reduce the numbers journeys of our vehicle fleet where possible to lessen the impact on highly congested areas.
Increase our fully electric van fleet and continue to reduce our carbon footprint significantly.
Continue to work with 'First Mile' and our customers on our waste consolidation strategy and assist in promoting and managing the service.
Improve measurement and reporting of waste collected on behalf of all clients.
Support local businesses and trades and make them the first port of call as per our Purchasing Policy.
Get involved in community projects with our clients and service partners where possible.

GREEN ACHIEVER SCHEME
We are proud to be accredited 'Gold' member status in recognition of our industry leading environmental achievements and procedures.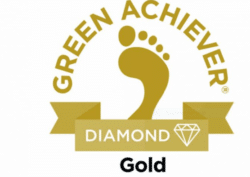 The Green Achiever Scheme is a partnership between E4 Environmental Ltd and Carbon Earth Ltd. Having had plenty of years experience in the environmental industry, they have combined their experience to support businesses that are striving to achieve credentials that they can easily demonstrate to their customers and suppliers. Our objective is to look for ways to make a difference and assist companies in doing so.
Improving recycling rates and reporting of waste is one area where we believe we can make a real difference in the communities we work in, this is our latest project …
FIRST MILE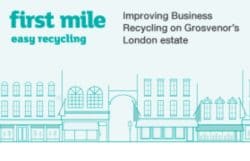 We have been busy this year working with First Mile on a project for one of our prestigious customers Grosvenor in Mayfair, the object of the scheme is to increase overall recycling rates, achieve zero waste to landfill, reduce the number of collection vehicles in the area and standardise collection times for all residents and tenants.
We are very pleased with the results of the scheme so far and as the pin map shows we now have 206 local businesses on board, the key statistics for 2020 are as follows: